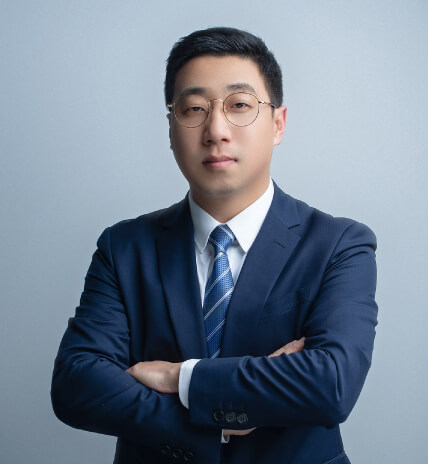 David Xu

北京

Partners

专业领域:

Competition & Anti-trust,Dispute Resolution, Investment and Financing, Disposal of Non-performing Assets
电话:

8610 8587 0068

传真:

8610 8587 0079

邮箱:

guannan.xu@chancebridge.com
Practice Areas and Experience
Mr. Xu is a partner of Chance Bridge Law Firm's Dispute Resolution Department, and mainly practices in such fields as corporate investment and financing and equity disputes, major commercial contract disputes, and disputes over the disposal of banking and financing non-performing assets. Mr. Xu has worked with well-known law firm, Hong Kong-listed company and financial institution for many years. He is good at complex and suspected refugee commercial dispute resolution business, has solid professional knowledge of law, strong logical thinking capacity, and is good at grasping details, especially at designing dispute resolution plans for complex and difficult commercial disputes.
Education Background
2004.7-2007.7 Master of Civil and Commercial Law, Peking University
1999.7-2003.7 Bachelor of Engineering, Harbin Engineering University
Work Experience
2007.7 – 2010.5 Zhong Lun Law Firm
2010.6 - 2017.6 China ZhengTong Auto Services Holdings Limited (Hong Kong Main Board listed company, stock code: 01728)
2017.6 – 2019 Huatai Motor Finance (China Banking and Insurance Regulatory Commission licensed financial institution) is the legal director
Working Language
Mandarin and Fluent English
Dispute Resolution Area
A Xiamen enterprise sued a famous American investment company, Shi XX, and Peng XX for the dispute over impairment of the interests of the company, Mr. Xu is acting as the agent of the defendant Peng XX, the subject matter of the case was CNY130 million;
A automobile Finance Co., Ltd. sued a Shenzhen Yunli Automobile Co., Ltd. (dispute over financial lending), as the agent of the plaintiff, the subject matter involved in the case is over CNY60 million;
Representing several investors in the securities false statement liability dispute case involving Dalian Dafu Enterprisesholdings Co., Ltd.;
Provided legal services for the bill disputes between Rutucel and Liu XX and Xia XX.
Field of capital market
Provided legal services for the Geron Co., Ltd (002722) A-share IPO project;
Provided legal services for the H-share IPO project of Tianjin Binhai Teda Logistics Group Co., Ltd. (08348. HK);
Provision of legal services regarding public offering of additional shares to Citychamp Dartong Co., Ltd. (600067);
Provided legal services for the major restructuring of Tieling Newcity Investment Holding (Group) Limited (000809);
Provided legal service for China Jianyin Investment Ltd' s investment of 250 million yuan in a solar cell manufacturing enterprise;
Provided legal services for several private equity investment projects including the investment of Wu Ying (founder of PHS) in a certain telecommunication equipment maintenance enterprise.