Chance Bridge Partners is Honored in Banking and Finance, M&A by IFLR1000
Date:2020/7/14
The International Financial Law Review (IFLR1000) recently released its ranking of law firms of 2021. With its superb professionalism and compelling business achievements, Chance Bridge Partners is recommended as "Notable Law Firm" in the Banking and Finance areas as well as M&A. The banking and finance area of Chance Bridge Partners has become the fourth business sector recognized by IFLR1000 after Capital Markets, M&A, Energy and Infrastructure areas.

The International Finance Law Review (IFLR1000) is an annual guide about the leading law firms in the field of finance and corporate services worldwide and was launched in 1990. Specialized in providing lawyers with international financial information on financial institutions, corporations and private individuals, IFLR1000 has considerable authority and wide influence in the industry.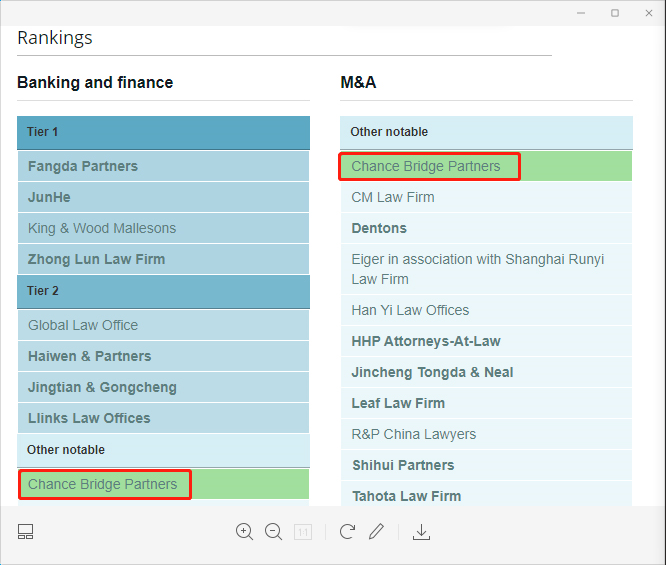 Over the past year, Chance Bridge Partners has achieved great development in banking and finance field. It has introduced a great number of partners and consultants with rich experience in this area, which further enhances its professional strength in the banking and finance field, and has established solid cooperative relations with many banks/financial institutions.

As a law firm specializing in providing corporate, commercial and financial legal services, Chance Bridge Partners is grateful for the clients' permanent and consistent trust and support, and will continue to provide the clients with more efficient, qualified and diversified legal services.
Share the pages to:
Print
a>