Chance Bridge Partners was listed on the ranking of Benchmark Litigation
Date:2021/6/15
Chance Bridge Partners got on the list of other notable firms in Beijing area by Benchmark Litigation with the outstanding performance and professionalism of in the areas of commercial dispute, construction and real estate.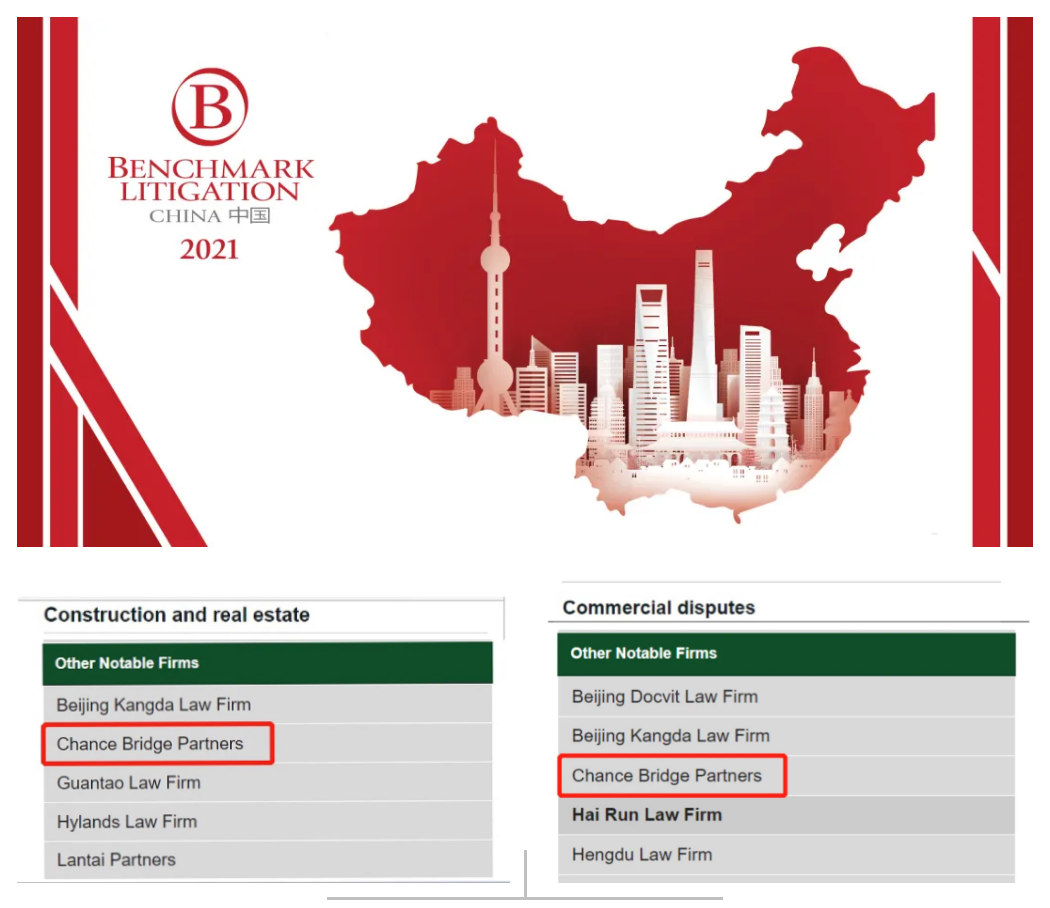 Benchmark Litigation is the only publication on the market focused on dispute resolution and is an authoritative guide to leading litigation firms and lawyers worldwide. It provides rankings for law firms and lawyers based on extensive interviews with litigation lawyers, dispute resolution experts and their clients, as well as an analysis of developments in the most important cases and law firms in the market. This is the first time Benchmark Litigation has released a ranking guide for China, which is presented in both English and Chinese, and is a regional guide focusing on the legal markets in several key cities and provinces in China.

The Dispute Resolution Department of Chance Bridge Partners specializes in major and complex dispute resolution in the financial and commercial fields, especially in handling major, complex, second-instance, retrial and protest cases. It is familiar with dispute resolution and complex risk handling in the financial field. It has won praise from its clients for its careful and thoughtful trial strategy, excellent court argumentation and negotiation.

Chance Bridge Partners has long provided professional and comprehensive legal services for many real estate investment and development enterprises, construction enterprises and property service enterprises. Its business covers the forms of real estate, including infrastructure, urban complex, commercial real estate, commercial housing, affordable housing, etc. The scope of legal services provided includes land development and use, real estate development, real estate investment and financing, real estate transactions and property management of the entire industry process.

a>