Shenzhen Office of Chance Bridge Partners Officially Opened
日期:2021/9/1
On August 25, 2021, the opening ceremony of the ShenZhen Office of Chance Bridge Partners was held at China Resources Tower in the central business district of Shenzhen. Nearly 50 important clients from securities brokers, funds, trusts, listed companies, high-tech enterprises, and the colleagues from Chance Bridge's Beijing Office gathered together to celebrate the grand opening of the Shenzhen Office, which is the second branch of Chance Bridge.
In her remarks at the opening ceremony, Ning Zhu, managing partner of Chance Bridge Partners, noted that, from the establishment of Chance Bridge in 2011, the firm has always aspired to the highest standards of professionalism based on the principles specialization, internationalization, and integration. With its head office in Beijing, and with access to the additional resources of leading international legal networks, such as SGLA and Alliott Global Alliance, Chance Bridge Partners has the professional ability to provide legal solutions to clients around the world.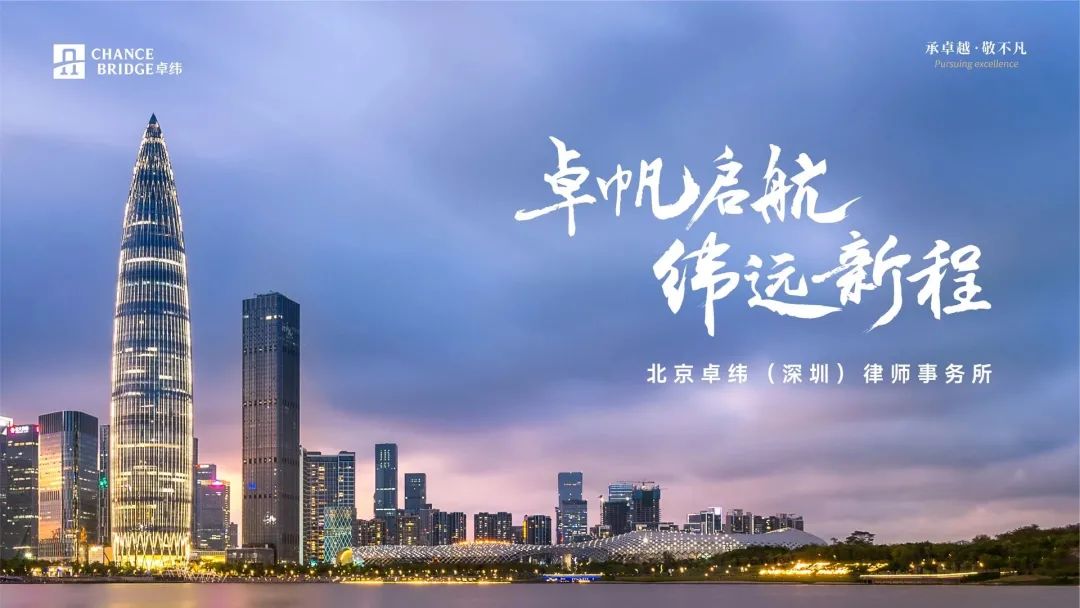 Shenzhen, as the core city in the Guangdong-Hong Kong-Macau Greater Bay Area, and the pioneering region for China's original economic opening, continues to occupy an important leadership position in the overall advancement of China,s development. The establishment of Chance Bridge's Shenzhen Office was necessary and beneficial for broadening international business development channels, carrying out international exchange activities, enhancing the comprehensive strength of business, ensuring the provision of more professional and personalized legal services to clients, and enhancing the influence of Chance Bridge,s brand, which is also an important step of the firm's nationalization development strategy.
Ningzi Li, executive partner of Shenzhen Office, said that in the future, the Shenzhen Office would focus on the areas of financial markets, capital markets, intellectual property and data compliance, high technology and Internet, financial dispute resolution, demonstrating the professional quality and service standards of Chance Bridge.
In the future, the Shenzhen Office will keep in line with the strategic direction set by the firm's Beijing Office, continue to adhere to the development concepts of "cooperation, initiative, innovation and commitment", and strive to enhance cooperation with the firm's Haikou Office and with other member firms in the SGLA and Alliott Global Alliance, in order to provide clients with comprehensive legal services across all relevant regions and fields, and to contribute to the development of Shenzhen's legal service market, always with the goal of being a law firm with a strong professional foundation, providing high-quality legal services to help clients achieve their critical business objectives.
a>